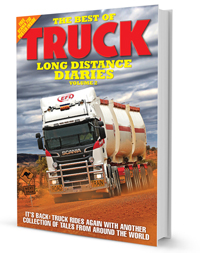 hind the wheel of the world's best and worst trucks from the past 40 years as they tackle some truly epic journeys. Join the late Phil Llewellin, and other TRUCK writers, as they head north to the frozen Arctic, east to war-torn Kuwait, south through the red dust of Australia and west on a coast-to-coast dash across the USA.
The Best of TRUCK: Long Distance Diaries
Order online today!
If you have trouble ordering, please contact Marie Kelly on 020 8912 2136.